FranchiseWire: FullSpeed Automotive debuts its 700th location with Grease Monkey
Grease Monkey franchisee Dana Leitner recruits family and friends to help run her new oil change business
February 3, 2022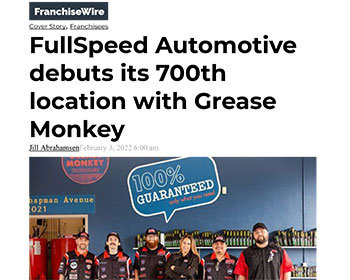 * * * *
About FullSpeed Automotive
FullSpeed Automotive® is a leading automotive aftermarket services platform offering oil changes, tire sales and rotations, brake services, car washes, and other ancillary services through multiple brand formats that target several desirable segments of the service market. The company's strategic geographic footprint of 700+ franchised and company-owned locations provide density in high growth markets. The company's flagship brands include Grease Monkey® and SpeeDee Oil Change & Auto Service®. FullSpeed is headquartered in Greenwood Village, Colorado.
About MidOcean Partners
MidOcean Partners is a premier New York-based alternative asset manager specializing in middle-market private equity and alternative credit investments. Since its inception in 2003, MidOcean Private Equity has targeted investments in high-quality middle-market companies in the consumer and business services sectors. MidOcean Credit was launched in 2009 and currently manages a series of alternative credit strategies, collateralized loan obligations (CLOs), and customized separately managed accounts.
MidOcean Media Relations Contacts
Amanda Shpiner/Grace Cartwright
Gasthalter & Co.
212-257-4170
midocean@gasthalter.com
MidOcean Investor Relations Contact
Allison Donohue
Investorrelations@midoceanpartners.com
Related Files:
FranchiseWire: FullSpeed Automotive debuts its 700th location with Grease Monkey